Dear readers,
To take part in the NGO project of café philo, please just have a look at the five levels in the pyramid below, they predefine areas to think over.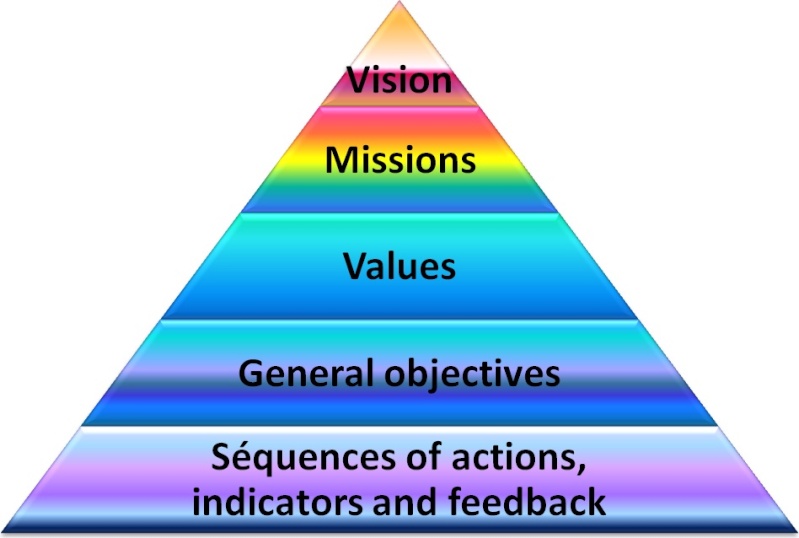 The vision (the long term objective):
To have café philos in every village or city in the world in which people can debate openly, with no restriction and in a philosophical way.
The reason why :
As a social animal, it goes by itself that man poses questions to himself and others about the meaning of life and about society. One of the ways to address these questions is to share them in dialogues in the general mode of cafe philo principles and with a non authoritative moderator. This approach encourages people of different religions, philosophies, and origins to come together and debate.
Mission (what you will do):
Give support and help café philo thrive. Create a decentralized network facilitating the interaction and the communication between each cafe philo and their participants.
Values connected to our actions :
We register ourselves in the humanistic approach of the initial café philo launch by Marc Sautet, that is free access to the debates, all ideas can be discussed, uncovering connexions between ideas is favoured instead of rejecting or dislocating them from the whole.
General Objectives (Immediate or concrete goals we aim for) :
First, let's clarify what we have defined in each level of the pyramid. We also want to improve the visibility and accessibility of
the tables of all cafés philo in France and the world
. We suggest to create and provide websites and forums for free for those who want them. We want to facilitate access to different studies, reflections, and people who practice this way of debating. We will suggest guidelines (to moderate, to introduce topics, to manage conflicts, etc.) in a collaborative work which allows to improve them as we make them.
Sequence of actions, indicators, and feedback :
Carrying out plans, developing critical feedback, correcting and adapting actions